For property investors looking to expand their portfolios, investing in hotel property is the next natural step. Not only is the UK tourism sector thriving since the London 2012 Olympics, but the switch from high-end property to hotels is not as large as you would think. Welcome to the world of hotel investments and worthy returns.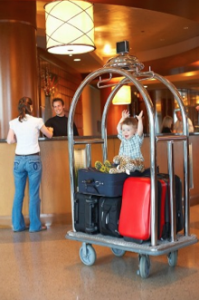 A booming sector
It is no surprise that the tourism sector in the UK is booming, especially after the London Olympics. Being the sixth largest industry in the country, the tourism market is not only employing just under 10 per cent of the UK's workforce, but it is contributing around £115 billion each year to the economy, equating to 8.9 per cent of UK GDP (Gross Domestic Product). According to recent statistics from UNWTO, the UK is the sixth and seventh largest tourism destination ranked by both visitor numbers and spending respectively.
The 2012 International Passenger Survey by the Office for National Statistics highlights this tourist spending well. The average tourist visiting the UK will spend £580 over the average seven-and-a-half nights that they spend in the country.
With Britain having been put on the international stage since the Games, this is the perfect time to consider investing into the hotel market. According to the latest HotStats survey, which are based on a sample of 625 full-service hotels across the UK, London figures were particularly up from 2012, with RevPar (revenue per available room) growing by 2.6 per cent to hit £127.20, the average room rate now sitting at £149.51, and room occupancy also rising to 85.1 per cent.
On a personal note, hotel investments have their benefits for investors. Long-hold tenancies and a lack of rental arrears mean you are less 'hands on' than residential property. Furthermore, the initial cash injection is relatively smaller, as hotels will often come already furnished. Furthermore high yields, often reaching as high as 12 per cent, and guaranteed income periods mean that they are more of a safe bet for potential investors than traditional buy-to-let.
Factors to consider
Like all forms of property investment, location is vital. London and the south-east of England have always proven themselves as a 'safe haven', with many a hotel for sale in the capital city, but recent statistics suggest that regional hotels are also performing solidly. Either way, you want to be looking in areas that tourists are more likely to flock to, so city centres and areas close to attractions. Of course, do note that this will mean you have to pay premium prices.
It is also important to consider the amenities that are available at the hotel, regardless of location. For example, countryside hotels will feature golf courses, swimming pools, banquet halls that can be hired for weddings, and spas; many features that customers will appreciate and in-city hotels do not boast.
When financing the investment, it is important to have solid equity in your existing assets. However, to get the hotel to a desired standard, investment may be needed. Rely on your  budgeting software and stick to it. Do not be tempted above the budget that you have set yourself. If you are arranging finance on the property, ensure that you have an 'opt-out clause' if the loan is not agreed, whilst try to arrange your mortgage finance 'in principle', before agreeing to purchase the property or signing any contracts.
The hotel sector may require some expertise, so be sure to seek professional advice whenever in doubt, but it won't be long until you begin reaping in the rewards.
Investing in Hotels as the Next Step